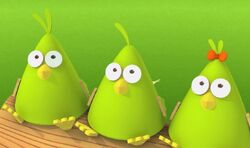 The Spring Chicks are jolly, yet mischievous little chicks, who lost their mittens and sat on a wall sometimes like to cause trouble, and are friends with the Wormans, there mother is Mother Hen.
For Spring Chicks' gallery, see Spring Chicks/Gallery.
One Spring Chick wears a red bow, stating that she is a female.